Gary S wrote:

Wouldn't it be better to make your sleeve out of copper to avoid dissimilar metals?
What a lead in Gary

And here I was today, playing with some 3/4 inch copper plumbing tubing/pipe whatever you want to call it.
3/4 inch is the ID and the OD is 7/8 inch.
If you take some tubing and solder it to a coupler for connecting 2 pieces of 3/4 inch tubing together then make a couple of cuts, you have a sleeve that can't fall into the cooler and it you won't have to worry about it disintegrating and turning into dust due to galvanic corrosion.
Here are a couple of pictures
First one..............Tubing and coupler
Second one.............coupler soldered to tubing and then the coupler end was cut so there was about an 1/8 of an inch of the coupler, then the tube was cut the same length as the area you're trying to reinforce.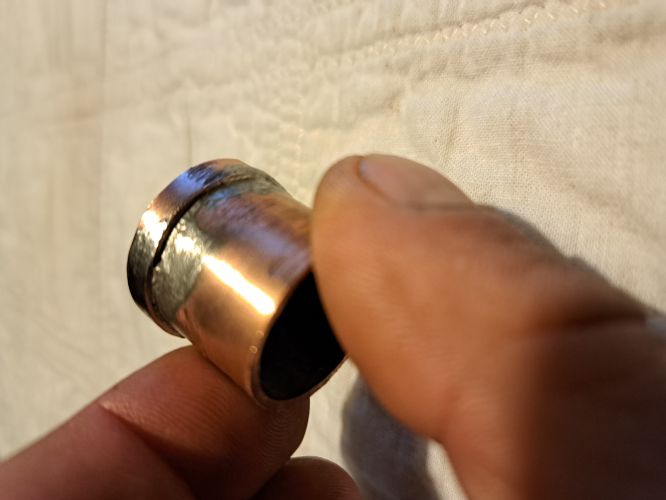 The you slip the small end into the cooler hose connection and the added thickness of the coupler keeps it from sliding into the end bell of the cooler accidentally
I slid it into a cooler end bell and put a 1 inch hose on and tightened that poor hose clamp till it was ready to break and had no crushing at all of the cooler tubing.
It's a little loose in an undamaged cooler fitting like you said, but a little of your favorite epoxy and it won't go anywhere and pretty much makes the connection crush proof.
I'd guess that you could accomplish the same thing with a tubing expander and not need to do any soldering