I am almost done having the late 60's, early 70's Airguide speedometer faces reproduced. They look like this: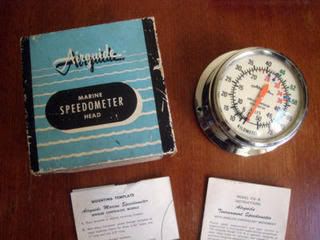 I was at the shop today to test a sample. They are turning out pretty good, but I have a couple of decisions to make. The sample had a completely white background, which was startling to me. It look a little too new. I am having the shop do one with a slight pigment for the background, but it will still basically be white.
The one that he had was attached to a polystyrene backing with a hole for the needle and a whole for the stop pin. It seemed to work, but was concerned about the needle binding. The sample was attached to .030" polystyrene so it could drop right onto the existing faceplate. That way there would be no worrying about placing a sticker off center, etc. The original faceplate is about .060" thick. I think a better solution is to ditch the original faceplate and simply go with .060" polystyrene. The only issue with this is that the stop pin would need to be reattached. to the new faceplate.
Reattaching the pin seems fairly simple. Those pins were originally punched in (not screwed in), so an appropriate size whole and super glue should work fine.
I'm interested in your opinions before I give the final go ahead.